Arizona Distillery of
21st Century Flavors
We are SanTan Spirits, an Arizona distillery of 21st century flavors. Our goal in everything we do revolves around our simple mantra of "Uncommon Quality for Everyday Occasions". Our spirits are made to drink and enjoy among friends. We seek nuance and adventure in flavor while dedicating fully to only the highest quality ingredients and craft processes.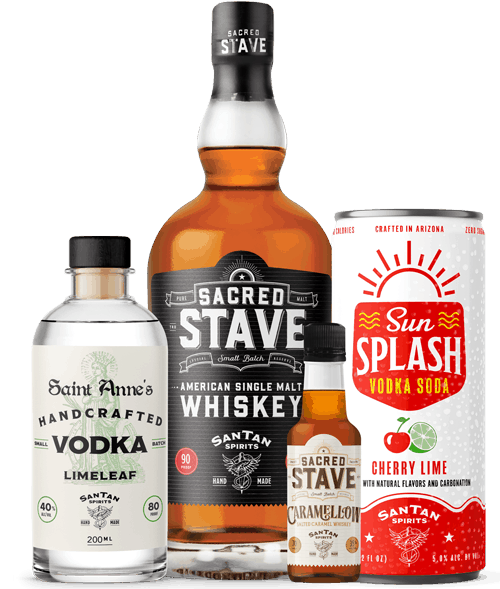 Visit the Arizona distillery
We're different than other distilleries in Arizona. SanTan Tours are an immersive, education look at the science and similarities of the brewing and distilling process. We're the only combined brewery + distillery in the state. Stop by for a tour and a taste!
Our Tasting Room offers a huge selection of SanTan beer, spirits, and merchandise including exclusive items you won't find anywhere else. Shop Vault + Pilot Series beers or our mini 200 ml. spirit bottles.​
Tour Schedule + Location:
Thursdays: 4pm & 6pm • Fridays: 4pm
Saturdays: 1pm, 2pm, 3pm & 5pm • Sundays: 1pm, 3pm & 5pm

495 E Warner Road Chandler, AZ 85225
Tasting Room Hours:
Monday – Friday: 4pm – 7pm
Saturday – Sunday : 12pm – 7pm
MULTI-AWARD WINNING SPIRITS MADE TO ENJOY
Our spirits have been recognized and awarded by our peers at competitions from the American Distilling Institute to the San Francisco World Spirits Competition. The unique flavors and refined quality of our spirits have taken home multiple awards and medals in consecutive years. SanTan Spirits is recognized as one of Visit Phoenix's
Top 10 Distilleries in Arizona
.
Sacred Stave American Single Malt Whiskey – Double Gold Winner, 2019 New York World Wine & Spirits
The Largest Distillery in Arizona
We believe that when it comes to quality spirits, every little detail matters. Each of our spirits is carefully crafted with intention from grain to glass. Proudly located in the Southwest, we are an Arizona distillery that gives priority to local, seasonal ingredients through our relationships with farmers and local producers. Our twin artisan pot stills are located in our Chandler facility where we also age and finish in a variety of hand-selected wine barrels. Get a taste of SanTan Spirits at our Cocktail Bar Spirit House in Downtown Chandler, Arizona.
Learn more about SanTan Spirits awards and announcements.
SanTan Spirits won big at yet another international competition, the New York World Wine and Spirits Competition. SanTan Spirits' Caramellow Whiskey won a Gold Medal
Continue Reading
It just became a so much easier for Arizonans to enjoy award winning, local craft spirits. SanTan Spirits, the distilling side of SanTan Brewing Company,
Continue Reading
SanTan Spirits, the distilling side of SanTan Brewing Company, is releasing its newest award winner – Butcher Jones, Straight Rye Whiskey, Cask Strength. Available for
Continue Reading